www.tomveatch.com / Table Tennis
Perfect Pingpong Ball Pickup Net
Here is the perfect net to pick up a hundred pingpong balls after practice.

It's a fish net for Koi (pond carp). Cheap! and Perfect!
Handle just the right length so you don't have to bend over (and I'm tall).
Net frame bendable, whippy, and thin to slide under balls.
Netting made of, of course: fishnet!
None of these pictures of related Python brand nets do it justice.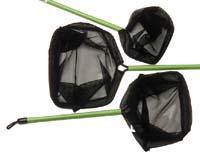 Part number:
PY0034 at Jonah's Aquarium (discontinued the line, out of stock)
CD-158827 at Drs. Foster & Smith (www.drsfostersmith.com)
The one we want is in this product family, but it's different from the ones in the picture. The 10" x 7" with 24" handle one is what we want; it has a relatively longer handle, a shorter/wider opening, and a horizontal bottom for sweeping along the floor.

I just ordered 5, for a cost of around $50 total including shipping. Two for me and my practice partner to pick up the gross of balls on the floor after a multi-ball session, two for another friend who has a robot, one for a gift. A Perfect gift for a pingpong player! (and No, I'm not making any money off this!)

I ordered it from Jonah's Aquarium in Ohio.

Part Number PY0034, 10"x7" net w/24" Handle, $8.50 plus shipping. Then in 2005 I ordered 5 more from Drs. Foster & Smith, the Ulti-Net 10x7,24" handle, for even less, only $40.44 including shipping.
Copyright © 2002, 2005 Thomas C. Veatch All rights reserved.
Last Modified: January 12, 2005.